Potential danger of cone crusher.
so what can we do in crusher repairs ?
As a kind of widely used crushing equipments ,the maintenance and repairs of cone crusher is an issue which customers are more concerned about. Regular maintenance can discover problems in advance, nip in the bud, and help to prolong the service life of cone crushers. General maintenance is consist of minor repairs, repair and overhaul. The specific time interval and check the parts, as follows:
Minor repairs
The minor repairs is usually conducted 15-30 days, and the main contentsinclude:
1) inspect the wear of spherical bearing, taper sleeve, eccentric sleeve, base bushing, bottom end bearing, bevel gear, dustproof and sealing device, and adjust their coordination;
2) replace or adjust the spring of the frame;
3) fasten the bolts of each part;
4) cleaning, checking oil circuit and cooling and dustproof water system, eliminating oil leakage, adding or replacing lubricating oil, repairing oil pump;
5) inspect the wearing condition of the umbrella board and each part of the fender;
6) check the transmission bearings (bushings) clearance and momentum, if necessary, replace;
7) cleaning, refueling of motor and bearing.
General repairs
The general repair is usually conducted every 4~6 months, and the main contents include:
1) replace the lining board;
2) repair or replace eccentric shaft sleeve, taper sleeve and straight sleeve;
3) repair or replace the bowl and dustproof device;
4) repair or replace bevel gear, transmission shaft and bearing bush;
5) repair the adjusting ring and supporting sleeve thread;
6) all the inspection of the repair project and treatment;
7) decompose motor, blow dust, scale and check the gap of each part bearing; decompose oil switch, clean and deal with the defects; adjust and test the electric adjustment of each part; check and repair the switchboard and other cable.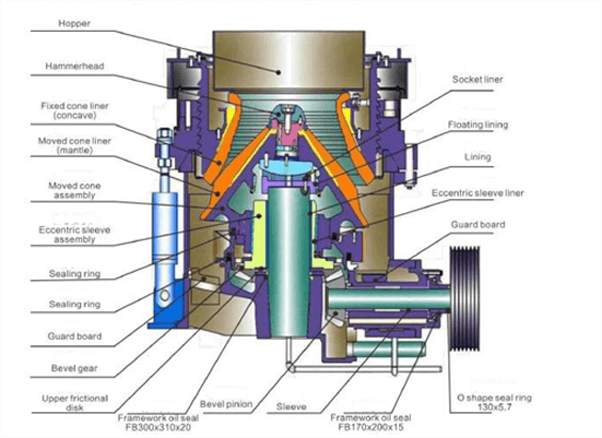 Overhaul
Overhaul, general 3-4 years, or according to the specific situation of crusher production, the main contents include:
1) all disassembly inspection of cone crusher, adjust gear meshing clearance, check or replace the upper, middle and lower round plate;
2) change the movement and fix the lining board;
3) replace taper sleeve, base bushing, size bevel gear, transmission shaft, etc.;
4) scrape spherical bearings or replace and weld spherical bearing housings;
5) welding supply hopper, shield, body guard board, etc.;
6) replace part or all base spring and spring bolt;
7) replace the oil pump. High frequency small, users in the production according to the specific circumstances extended to 1-2 months. Timely maintenance will help clear the hidden problems in the equipment, and lay the foundation for efficient production.